Lake Oconee, Georgia is one of those delightfully picturesque places that looks like it belongs on a postcard or in a television show. Sweeping expanses of greenery, softly rippling water, and vast skies of varying moods and colors are sure to stir your heart and bring a smile to your face.
This lovely lake is located an equal distance from both Atlanta and Augusta, nestled gently in the Georgia countryside, and comprises over 19,000 acres of water and 374 miles of shoreline. Lake Oconee offers the ideal location for all sorts of water sports and activities, including swimming, boating, fishing, waterskiing, wakeboarding, paddle boarding, picnics, and, of course, soaking up the sunshine and relaxing.
Lake Oconee is also a Georgia Power Company lake, which means the lake level is carefully managed for both power generation and recreational use. There are campgrounds and outdoor activities of all shapes and sizes that are available on the water and across the 7,400-acre Oconee Wildlife Management Area.

Lake Oconee has much to offer for Floridians as well as people from all over the world. The ins and outs of this lake are vast, and it's nice to have an expert to help you ease into the home of your dreams along a charming expanse of shoreline.
Riezl Baker
is just the right expert to help you find your dream lake home. She is the premier
Lake Oconee real estate agent
and is knowledgeable about the details of the community, as well as what makes a house a home. Come visit Lake Oconee and let Riezl Baker show you a place that is nothing short of a fairy tale.
Take a walk through history with Lake Oconee's historical sites
Water sports and activities are a large part of Lake Oconee's appeal, but they're not the only things this lovely lake has going for it. Lake Oconee is steeped in fascinating history that is sure to hold the attention of people young and old alike. From a prison that is quite charming (yes, we said charming) to the
Lake Country Discovery Museum
to the
Greene County African American Museum
and the
L.L. Wyatt Museum
, Lake Oconee has a plethora to offer for history lovers and the curious alike.
Below are just a few of the intriguing historical sites that call Lake Oconee home.
The Old Gaol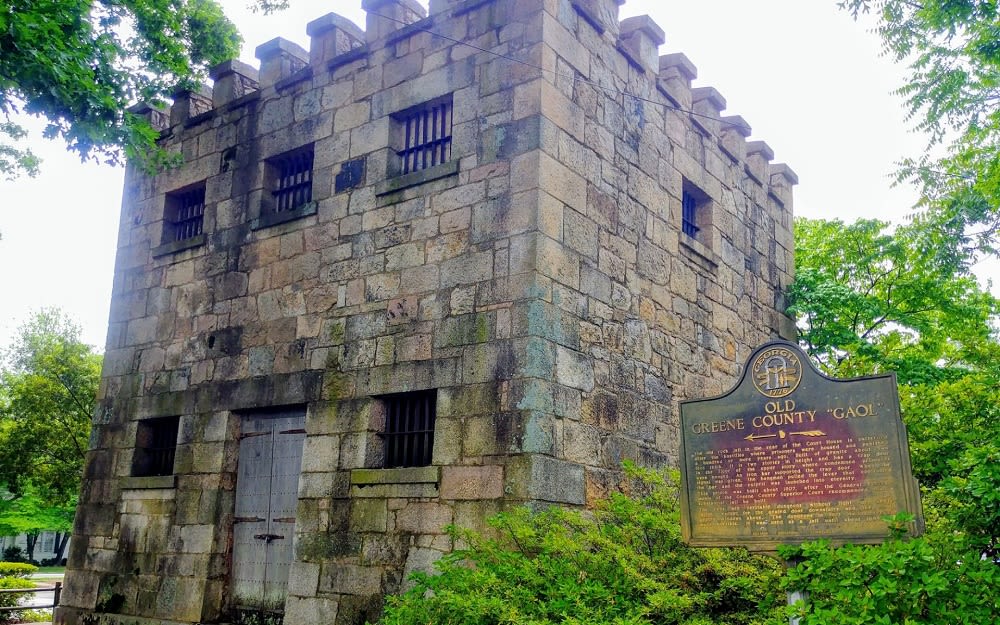 The
Old Gaol
was completed in 1807 and is believed to be the oldest existing jail structure in Georgia. This old building, which looks a great deal like the Bastille in France, has remained untouched for over 200 years. The two-story fortress itself is still formidable, with sloping stone walls that are made of granite and are two feet thick.
L.L. Wyatt Museum
The
L.L. Wyatt Museum
, located in an 1890 building, is a virtual treasure trove of local history. This fun and interesting museum is named after L.L. Wyatt, who was the sheriff of Greene County for 37 years. People visiting this museum will be intrigued by historical photos, badges, a corn liquor still that was seized in a raid, century-old arrest warrants, an authentic cell block, and an array of firearms that span decades at this museum. Law enforcement, along with local crime, is on display at this interest-piquing museum named for one of the area's most well-known lawmen.
Scull Shoals
Scull Shoals
allows those visiting the opportunity to explore over 10,000 years of history all in one place. The history of this remarkable location can be experienced from the time of the Native Americans to Desoto (whose time is around the 1540s) to the first paper mill in Georgia, which was built in 1811. In addition, you can hike a short section of the Oconee River and come upon the historic ruins of the old Scull Shoals Village.
The fascinating village contains the ruins of an old schoolhouse, a home site, and much more. The museum proposes many theories about the fate of the village, including unsustainable farming practices that may have contributed to the downfall and abandonment of the village. There is an unmistakable feel of something special within the ruins, and generations of history can be felt lingering in the places the villagers once dwelled.
Enjoy a bounty of creativity at Lake Oconee arts & entertainment events
The Oconee Performing Arts Society offers the Lake Oconee community the opportunity to participate in outstanding theater, dance, and art performances. The Lake Oconee community is rich in a culture of art and creativity, and it's home to a multitude of locations, centers, and organizations dedicated to spreading art throughout the community. Below are just a couple of the locations where art takes center stage at Lake Oconee.
The Plaza Arts Center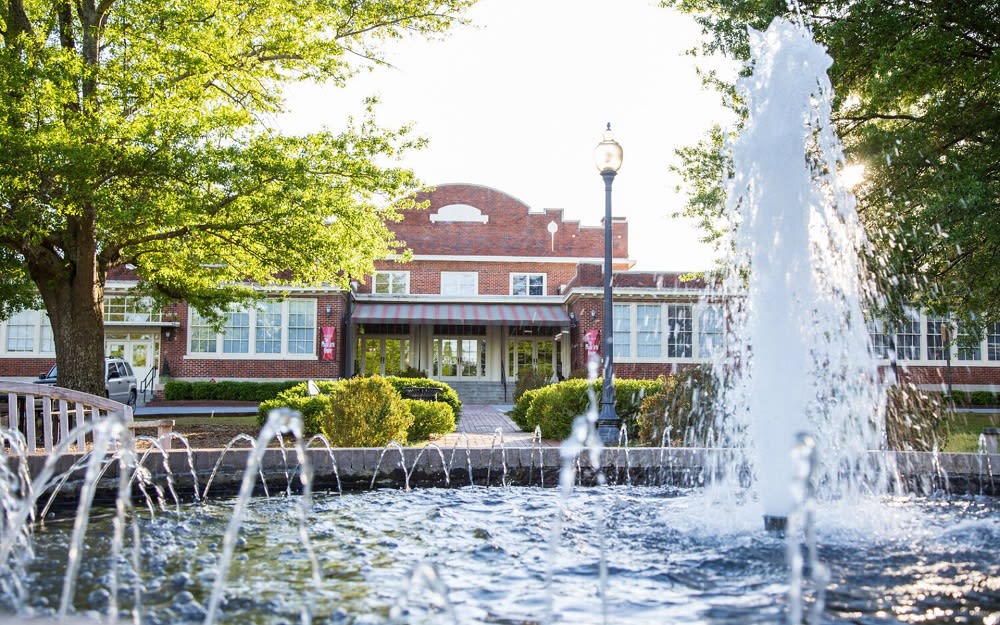 Photo Courtesy of Lake Oconee Life
The Plaza Arts Center
is the heart of the Lake Oconee art community. This wonderful center has an exceptional amount of talent and entertainment and serves as the central gathering place for local artists, social and civil groups, and many local communities. Moreover, The Plaza is a great venue for weddings, receptions, banquets, and, of course, parties.
This facility boasts a 500-seat theater, front lobby entryway, gathering/gallery room, and history museum, including a historic classroom. The outdoor space is breathtaking and includes perfectly manicured lawns, trellises with waterfalls of climbing white roses, and a central fountain surrounded by brick paths. It is truly an elegant, beautiful place to explore art and beauty all at once.
The Oconee Performing Arts Society
The Oconee Performing Arts Society is truly dedicated to bringing art to the Oconee community. Their slate of live music, theater, dance, and many other types of performances is sure to expand your artistic and cultural horizons and bring joy to your heart. The Oconee Performing Arts Society treasures both the traditions of the past and the "vibrant artistry of the future to entertain, enrich, and educate a diverse regional community" (
Oconee Performing Arts Society
).
Enjoy the picturesque waters of Lake Oconee
Of course, one of the main reasons Floridians love Lake Oconee is the water. The water is always the number one reason people come to Lake Oconee, and with good reason. There is nothing like the clear, crisp water surrounded by magnificent trees and soft shoreline that make people want to keep coming back again and again.
Jumping Rock
The famous Jumping Rock at Lake Oconee is a real crowd-pleaser — it's one of the most adored places around Lake Oconee. This beloved location stands 10 feet tall on the south end of the lake before you get to the dam. Jumping Rock is only accessible by water. You can pull your boat right up to the rock, climb on up, and start enjoying the fun.
Reel Time Guide Service
What would lake living be like without a little fishing? Lake Oconee offers a plethora of shorelines to fish from, not to mention taking out your boat and reeling them in. That being said, Lake Oconee is large, and having a guide can be a huge help when you are fishing since they know the lake like the back of their hand.
Reel Time Guide Service
is dedicated to teaching people how to fish and fish successfully. Captain Smith will teach you the ins and outs of fishing Lake Oconee, and you'll be catching stripers, hybrids, and crappie in no time at all. Contact Captain Smith directly at 404-803-0741 to make an appointment and learn how to fish the right way.
Lake Oconee, Georgia, is a vast and beautiful location that makes the perfect vacation spot for Floridians and people from all over the globe. Lake Oconee is blessed with thousands of miles of water and hundreds of miles of shoreline, as well as a multitude of water sports and fascinating things to do on land, including the Oconee Performing Arts Society.
Lake Oconee is a tapestry of culture, sunshine, and fun. If you are looking for a vacation home in the Lake Oconee area, reach out to
Riezl Baker
. She is the leading
Lake Oconee real estate agent
and can help you to find the perfect lakefront home of your dreams.